Airports and Terminals

Imaginet International Inc was selected as the subcontractor for the 'Network Rehabilitation' at the 3rd terminal of Manila's Ninoy Aquino International Airport (NAIA) by lead contractor, Japan's Takenaka Group. The requested works were extended from the refurbishment of the fiber optic network and upgrading of the Core and Edge switches, to include implementation of a High Availability Firewall solution, a Network Management system, replacement of four 30K UPS's and the installation and commissioning of the passenger flight information display screens (FIDS).
Now completed and reopened, the NAIA 3 terminal building is estimated to have the capacity to service up to 33,000 passengers daily at peak. With its 34 air bridges and 20 contact gates, it can serve up to 28 planes simultaneously.

Have a Consultant call me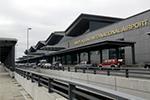 The following case studies are representative of work performed for the Airports and Terminals in the Philippines.
Industry references are available on request.